About a month ago, Lang sent me to the grocery store with the graphic below. He had jumped on the train of whole foods eating and more specifically, packing our breakfasts and snacks with superfoods. I told him about one of my favorite blogs, Nutrition Stripped, and for a solid couple of weeks, McKel's amazing recipes and informative blog ruled our bellies.




We followed her smoothie and nutrient-dense bread recipes for a few weeks before venturing off and experimenting with coconut flour, maca powder, raw cacao nibs and other odd, but insanely good for you foods.

In the last month, I have made these granola bars four times. They don't last long in our house. I modeled the recipe roughly off of my version of the Smitten Kitchen granola bar recipe I made a few months back, but this time only used nutrient dense ingredients, aka superfoods.

Here's a short lowdown on the goodies of these ingredients:

oats: low glycemic index, high fiber, potentially gluten free (read your labels!)
pepitas: one of the best plant-based sources of zinc!
goji berries: crazy amount of antioxidants in an itty bitty berry
maca powder: helps with hormonal balance (anxiety, depression, infertility, focus, endurance)
cacao nibs: magnesium, iron

Substitutions can definitely be made for this recipe, but you'll loose some of the nutrients. If you're looking for a nutritious, basic granola bar recipe, go here. Otherwise, here are some possible substitutions:

goji berries = raisins, cranberries, any other dried fruit
pepitas = any other seed or nut
cacao nibs = chopped baker's chocolate bar
coconut oil = melted butter

You should make these. So tasty and so good for you.
win-win-win-win.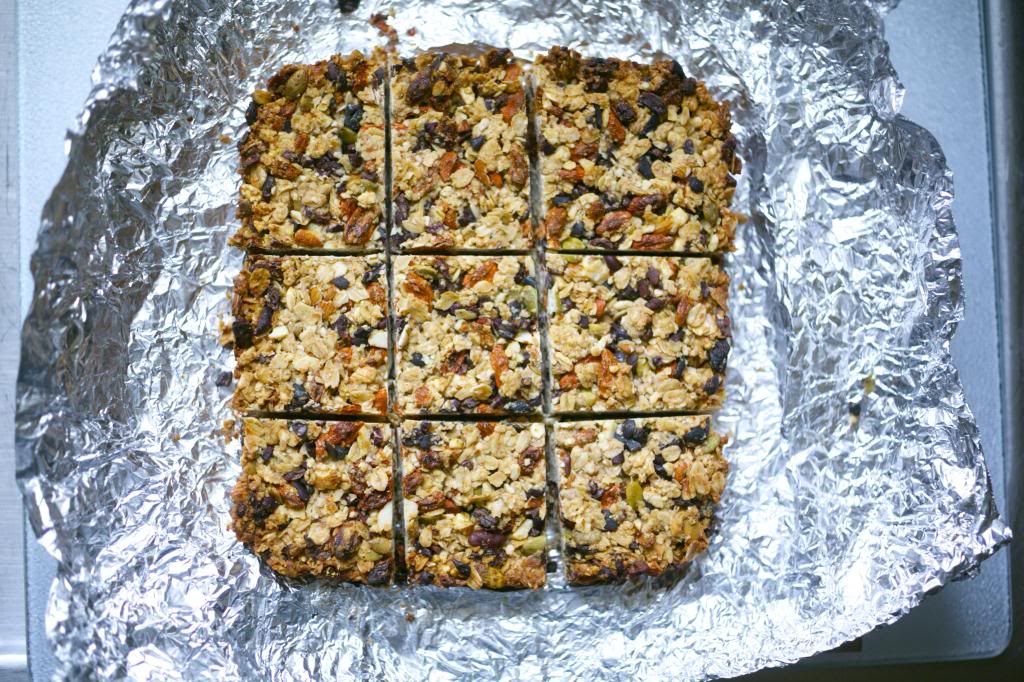 Superfood Granola Bars

2 cups oats
1 cup almonds
1/4 cup raw pepitas (pumpkin seeds)
1/2 cup goji berries
1/2 cup raw cacao nibs
1 tablespoon Maca powder (optional)
2 teaspoons cinnamon
1/2 cup honey (heaping)
4 tablespoons coconut oil, melted


Preheat oven to 350; Line an 8x8 glass baking dish with aluminum foil so that it comes above the sides; grease really well.

In a large bowl, dump in the 1 2/3 cup of the oats. Take the last 1/3 cup of oats and place in a food processor and grind up to make an oat flour. Add the oat flour to the large bowl.

Take your 1 cup of almonds and pulse a couple times in the food processor to get chopped almonds and almond meal. (It's okay if you get primarily almond meal--almond flour is a great binding flour and so you're less likely to have crumbly bars). Add almonds to the large bowl.

Add the rest of your dry ingredients to the large bowl and combine.

Melt the coconut oil and mix with honey. Add the wet mixture to the large bowl and stir until well distributed. Dump the mixture into the baking dish and mash it down with the back of a spoon so that it is packed in.

Bake for 30-35 minutes or until the edges begin to brown. A couple minutes after taking it out of the oven, lift the bars out of the baking pan by the aluminum foil to help them cool faster. Once they are completely cooled, remove foil and cut into squares. Store in the refrigerator.