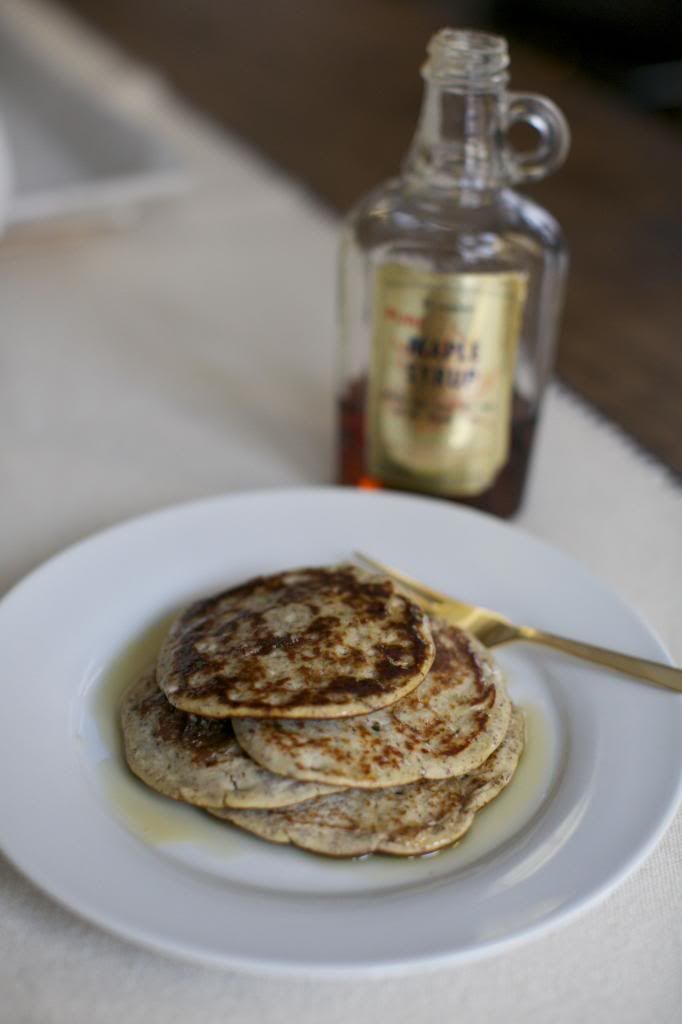 My first real gluten free success!!

Gluten free baking is tricky business. I've found success in tarts, oatmeal cookies and creating meals absence of gluten, but have had yet to create a faux version of anything gluten obvious--like, say pancakes!

Just to be clear, I am definitely not gluten free (phew!). I have found however, that by cutting back on gluten, my skin complexion has cleared up and I tend to generally have more energy. Aside from those perks, it's fun to test out other flours--especially coconut flour. It has double the amount of fiber and protein as found in wheat bran and much more than your regular all purpose flour. I'm super excited about these pancakes because they are packed full of great nutrients and they taste really good--something that can be quite a feat in gluten free baking. Even Lang loves these--and guys, that is a strong recommendation :)

So here is the recipe. They're kind of crepe-like and so serve them like how you would crepes! We've done the classic butter and maple syrup, yogurt and honey, and plain. They would also taste great with peanut butter, applesauce, or heck, chocolate sauce. Do what feels right!

Bon appetit!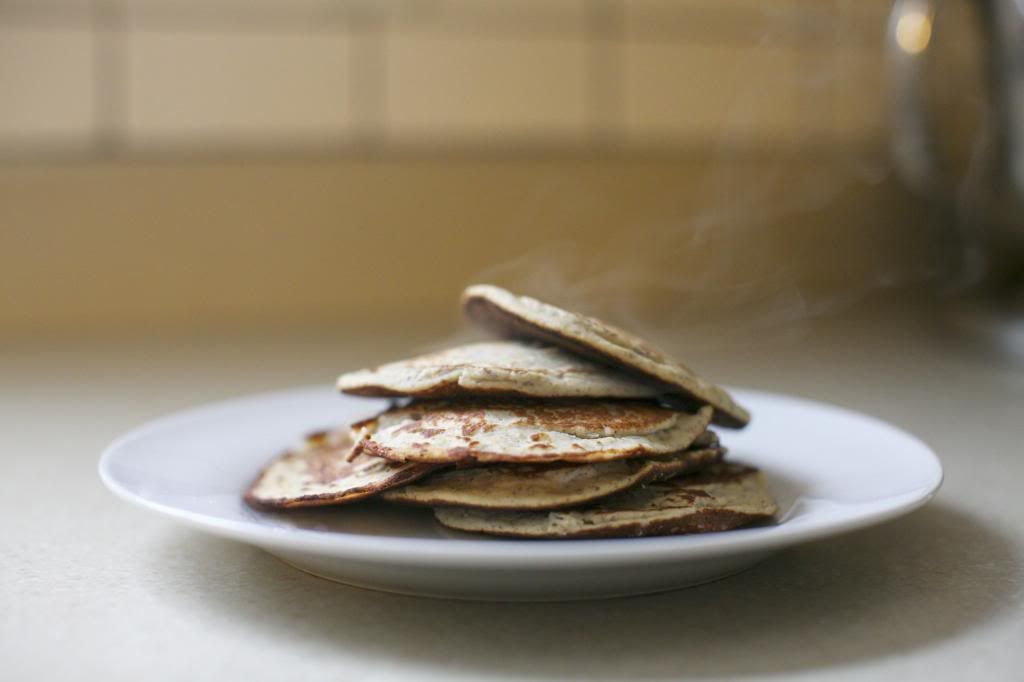 Coconut Flour Pancakes
-recipe slightly modified from nutrition stripped-
**Now, it can be a bit tricky to figure out what temperature works best on your stovetop and how to flip. I found that I have to turn my stovetop down quite a bit and have them cook longer. It takes a little bit of trial and error. Make little pancakes as testers to help save the batter :)

Serves: 2-3 people

1 1/3 cup almond milk (or any other milk)
1 teaspoon vanilla
1 banana
2 eggs
6 egg whites (or substitute for 3 eggs--equaling 5 total)
2 tablespoons honey or maple syrup
1/2 cup coconut flour
4 tablespoons ground flaxseed (meal)
1/2 teaspoon salt
1 tsp baking powder
1/2 cinnamon
1/4 nutmeg

1. In a blender, blend up the first six ingredients (milk, vanilla, banana, eggs, egg whites, honey/syrup)

2. In a small bowl, mix the rest of the ingredients together (flour, flaxseed, salt, baking powder, cinnamon and nutmeg)

3. Add the dry ingredients (from step 2) into the blender and blend until just combined. The consistency should have a medium thickness.

4. Heat up a skillet or griddle to medium/medium-low heat and lightly grease with coconut oil or butter. Once it's warmed up, try a couple of small tester pancakes. This part can be tricky and I only had luck flipping these when I used a metal spatula.

Using a 1/4 cup scoop, pour batter evenly onto your skillet. Once the middle bubbles and doesn't close back up right away, give those babies a flip. It took a bit of lowering temperatures and waiting longer for the pancakes to cook in order for me to get a good flip and good color on my pancakes. This will all vary on how your stovetop. My word of advice--don't flip too soon!

6. Serve them with whatever toppings you fancy and enjoy! They're also great cold or reheated. Enjoy!


What toppings do you like best on your pancakes? Do you have any coconut flour recipe staples? Please share!